And just like that, it is here again. The Holiday Season can bring a range of emotions, yet we believe that the opportunity as a BizX member to leverage products and services on our barter exchange can make your gift giving as painless as possible. Here we go again with a quick guide to BizX members' holiday offers:
The BizX Marketplace's 2021 Holiday Category
The new and improved holiday category is everything a consumer expects: easy navigation and an excellent selection for even the pickiest on your gift list.

Toggle between the directory or the buy it now sections at the top or use the relevance tab to simply filter by fellow members' ratings, the latest products or services or even what gifts are closest to you for fastest pickup or delivery options! Discover everything from ruby necklaces to incredible wine deals to pool tables in the gift category.
Other Holiday Categories include:
Can't find what you need?! Another great way to use a BizX Membership is by coming right to us.
The BizX Purchase Request Form
Sometimes all you have to do is ask. Whether it is posted on our marketplace or not, there is a good chance we can track down your Holiday gift buying needs. Simply, fill out this form and a member of our Member Services Team will get back to you with buying options.
A Gift Cards Avalanche
This offering can be summed up in one word: VARIETY. From 5 Star restaurants to chiropractic work to hotels, spas, and jewelry, there is something for everyone's flavor. Browse here.
Discover the World of Perks!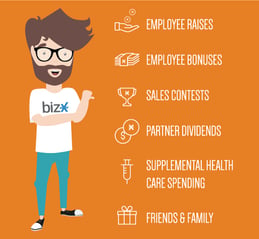 Join hundreds of BizX Members who have taken full advantage of being part of this barter network by enrolling in the BizX Perks program. Whether you want to reward your employees or getting your family to stop nagging you for your card, a Perks account has access to all the same goods and services as owner accounts, including the BizX Marketplace and everywhere that accepts the BizX card. A perfect stocking stuffer.
Book Venues, Entertainment, and Catering for your Holiday Shindigs!
From San Diego Members such as FEMX and Music As You Like It, up to Bay Area Members like Commodore Cruises and many Washington Members, we can't stress how easy it is for your holiday party to be taken care of using BizX. Save a valuable amount of time and cash by browsing venues, entertainment, and catering options today!
Plan & Reserve your Travel for 2022 Today!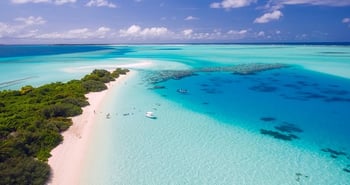 All signs point to record breaking world travel next year. At BizX, we have a dedicated team standing by to book your travel on trade! BizX travel partners include 5 Star resorts on the beach or in your favorite ski town, cruises, and off the grid adventures. The BizX Travel Request can be found here.
Essential Business Expenses
The constant new year's resolution: cutting down on nagging but necessary expenses. You have a golden opportunity to use BizX instead of cash to pay for IT Services, revamp your website, increase your digital presence or renovate your business. Whether you've got the balance or want to take out a line of credit, make sure you're factoring BizX into your budget in 2022!
Donate to a Charity using BizX!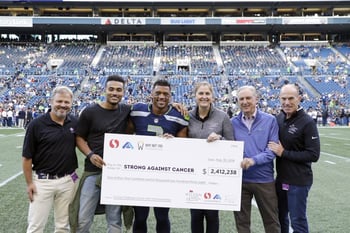 The holiday season is the time to feel grateful for our successes and give to those whom are less fortunate. To this end, you can find many ways to give in the BizX network - Habitat for Humanity, The Rivkin Center for Ovarian Cancer Research and Why Not You Foundation to name a few. A donation of BizX dollars enables a non-profit to off-set operational expenses. BizX charities are then able to utilize BizX dollars in a variety of ways, creating real change and exponentially helping their bottom line. We encourage everyone to consider donating, if you can!
However you use your BizX this season or any other, remember this—we are here for you! If you don't see what you're looking for or need a hand, let us know by emailing help@bizx.com!