Most any business has a website nowadays. What is less understood is that just having that website is not enough. You have to keep it updated, not to mention secure. After a number of years you have to redesign it too. Traxx Indoor Raceway had been a longtime client of Super Charge Marketing's for lead generation (Google ads sending interested people to their site to convert as customers). When they asked us about exploring a website redesign, we were excited to help.
---
---
There are many ways to design and redesign a web presence, all depending on your particular goals and business.
Web designers (like a lot of people who spend much of the day in front of computers) have a reputation for not being the most sociable bunch. And yet communicating and interacting is a CRITICAL part of website design, at least in our shop!
We met up with Traxx Indoor Raceway manager, Chris Kruse, in-person at their location in Mukilteo. It's a fun facility with racing tracks, video games and other activities. Many of our clients are based in the Puget Sound region, which gives us the opportunity to meet them in-person.
In our meeting with Chris we ran through a series of standard questions and options. That included asking about frustrations with the current site, as well as other websites that he liked. In this case, presenting clearer call-to-action links to key information was a top priority. That would make the website become more useful for visitors, as well as reduce staff time fielding phone calls on pricing and sign-up information. In addition, the site design was somewhat dated with sedate colors and not the best use of visuals.
The Old Traxx Indoor Raceway Site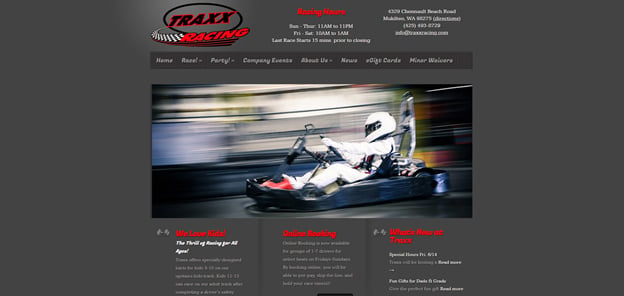 After the meeting it was time to get to work. We sent a proposed scope, cost and schedule, which was shortly accepted (all costs on BizX). We then entered a Terms of Work and sent an information collection document for Traxx to brainstorm on. We asked for many things, especially images and available video files.
Traxx has an incredibly visual product and people want to see what the racing looks like.
We also suggested a "full-width" design, which would get rid of the empty, gray regions to the left and right of the site on larger screens.
The next step was creating a staging site completely separate from the existing site. Staging sites let us work on the new site with no disruption to the current site. We also place it behind a privacy screen so that we do not confuse Google with two sites floating around with similar content and under the same business.
In the redesign we streamlined site content and established several clear channels where site visitors could get the information that they needed quickly. There was a newer logo with bright red and yellow that we used, then adding the exact same red and yellow shades throughout the site.
With no scrolling at all the site visitor is presented with 3 important pieces of information, pricing, directions and a call link. The call link works on both mobile and desktop devices. A video plays behind the main screen, showing a recorded race at Traxx.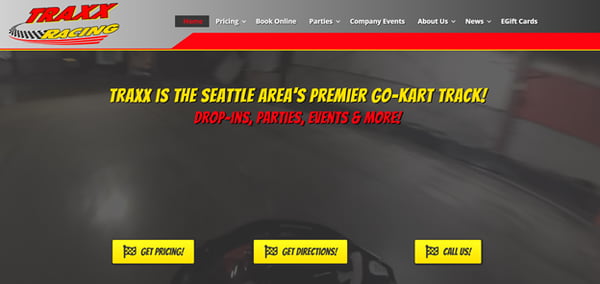 When the draft site was ready we had Chris review it in a comment round. Comment rounds are important to revise language and catch tweaks and fixes. Every website project should have a comment round as part of the process. In this case, we had link fixes, menu revisions and slide shows to make. After additional back-and-forth and tests it was time to go live.
We do not host every website that we work on, but we love to do so! Our hosting includes true daily backups (not the junk ones GoDaddy makes you pay extra for and that you can't restore your site from). It's also blazingly fast and comes with security certificates (to show your site as secure).
As the site went live we ran additional checks. Last, but not least, we submitted a new sitemap to Google Analytics. The site already ranked well, but submitting a sitemap is a nice way of telling Google there is new content/formatting on a site and that it's worth checking out.
From the above recap there is a lot that goes on behind the scenes in a website redesign, but it's a job that we love to do. Now that the new site is live the work is never really done. Plugins, themes and other site components will need to be updated. Most hacking occurs due to one or more outdated site elements. As for the design, the revamped site will continue to benefit Traxx Indoor Raceway well into the 2020's.
---
Need to update your website? Give Super Charge Marketing a call today!