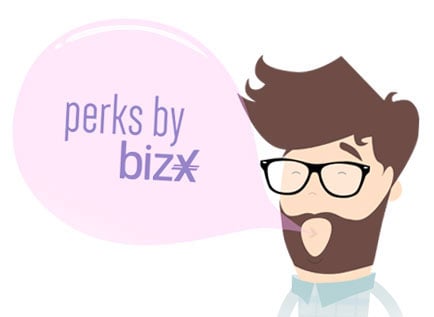 For the vast majority of holiday shoppers, we have found ourselves in this situation: stretched thin for time, not super clear on what the recipient(s) needs or wants, we speed walk to that "giant front rack in the sky" of gift cards. Fast food sports bar? Online app store? Oh perfect - an American Express/Visa/Mastercard gift card! They can use it on anything! Then the cashier rings up your cash total and you start thinking of all your holiday cash expenses. There has to be a better way...
Well there is with Perks by BizX. As a member of the digital business to business barter exchange, BizX, Perks accounts are a perfect member benefit for you to spread the love and appreciation this Holiday Season. When you enroll your team (or even family members) in the Perks Program, they will receive a BizX account and card - just like that AMEX gift card at the supermarket - loaded up with BizX dollars! WHICH OF COURSE SAVES YOU CASH WHILE ENABLING YOUR EMPLOYEES OR FRIENDS TO GET WHAT THEY WANT.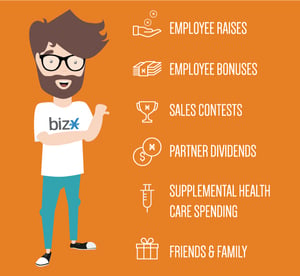 A Perks account is a joint account created under your primary business account. Transfers from a business account can be made into their respective Perks accounts at any time and in any amount! Perks accounts give employees the freedom to choose where to spend their bonus at anywhere BizX is accepted–whether it's in person at a brick and mortar business or on the BizX Marketplace!


Some of the more popular items that your employees, friends and family might be interested in:
Restaurants that Accept the BizX Card – dine at any of these restaurants and pay with BizX!
Travel – we have access to hotels, resorts, vacation homes and more all over the world.
Wine & Spirits – With wineries from Walla Walla to Sonoma to choose from, there are selections to please every palate.
Health & Beauty – Schedule your next massage, meditation, or spa day!
Gift Cards – with so many to choose from, you'll have a great time treating yourself, family or friends.

Cost-wise, your employees WILL NEVER PAY A FEE to BizX unless they elect to have items shipped to them or they spend more than the amount in their account. For the primary account holder, transferring money into a Perks account is the same as purchasing anything on BizX.

Your employees are the backbone of your company, show how much you appreciate their efforts by opening their BizX Perk account today! See what other members have to say about their Perks accounts here.