As many business-owners will tell you, the payment processing landscape is confusing – and expensive. They appoint a payment processing company to handle transactions from various channels, such as credit cards and debit cards, but rarely do they understand what is really going on behind the scenes. Often, they end up paying way more than the service warrants, but the costs of switching vendors can be so high that they are truly caught between a rock and a hard place.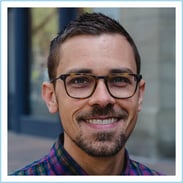 Jason Keil, who had worked in the payment processing industry for years, was keenly aware that companies in this industry weren't always playing nice or playing fair with their customer base. Lack of transparency, lack of customer care and of course, exorbitant costs were leaving hapless business-owners at the mercy of the processing company they had chosen – and to bring a sea change in this climate, he started Polaris Payments as a disrupting entity that stood for integrity, transparency and aggressively competitive pricing.
Recently, we were in conversation with Jason Keil about his incredible success as founder and CEO of Polaris Payments, and the unique relationship he shares with BizX as our community member. Excerpts from the interview:
Q: What first interested you in owning a business?
A:I come from a family of entrepreneurs, so owning a business was always on my radar. As a kid I even made up a company selling rocks to the neighbors! I still love to build things, but now that I'm an adult, the things I appreciate most about being a business owner are autonomy and creating something that impacts people positively. I love having the freedom to try out different business methodologies and to help local businesses.
Q: How did you get into the business you're currently in?

A: A family member met someone in the industry on the golf course, actually! I had been selling ads and doing marketing for small businesses, and I knew that many of them were unhappy with their credit card processing. The more I learned about the merchant services industry, the more I realized it was perfectly tailored to my interests and abilities. I started Polaris Payments in 2011.

Q: How did you discover BizX?
A: One of my clients was using BizX and referred me. I reached out to learn more -- and the rest is history!

Q: How has BizX helped you?

A:The community at BizX is absolutely amazing. I love going to the events, and I feel a strong connection with all the local business owners. For Polaris Payments, BizX has increased our revenue, helped us meet growth goals, and opened up a whole new pool of clients for us to serve. My family has used BizX for all kinds of things -- home services, delicious food, and even Lasik eye surgery! We're hoping to use it to travel more next year. I've also been able to give trade dollars to my team members, and they have loved using BizX for restaurants, massages, and all kinds of other things.

Q: How much have you saved using BizX?

A:I've been a member since 2012, so who knows -- thousands!! (Over $16,000 to be exact.)
Q: What would you say to someone considering using BizX?
A:I would definitely recommend joining BizX! The whole idea of barter just makes sense, and it's really special to be a part of the club!