Every year, the stars align in America's Finest City, and celebrities, film makers and industry enthusiasts alike flock to the glitz and glamour of the annual San Diego International Film Festival (SDiFF), which packs a year's worth of entertainment into five days of parties, celebrity tributes, award shows, and of course, independent and premiere film screenings.
Founded in 2001 by the San Diego Film Foundation, the SDiFF is the region's premier film event and one of the leading destinations on the independent festival circuit. Behind the glamour of the red carpet events is the film foundation who created the festival as a wonderful opportunity to gather together to celebrate the creative outlet of the magic screen, and also offer independant filmmakers the spotlight to showcase their narratives in the hopes of building empathy and understanding for complex issues to audiences around the world.

BizX was there in full force beginning opening
BizX was there in full force beginning opening day on October 4th to help the community kick off the widely acclaimed event for a great cause and to support the independent film industry.
Not only was BizX a proud sponsor of the festival and able to support the efforts and mission of the San Diego Film Foundation, but the SDiFF event was able to flex their BizX membership and offset production, coordination and promotional expenses of the festival, saving them thousands of dollars in event costs and connecting the festival with local San Diego businesses to help make it happen. They used their BizX dollars to offset projects costs such as: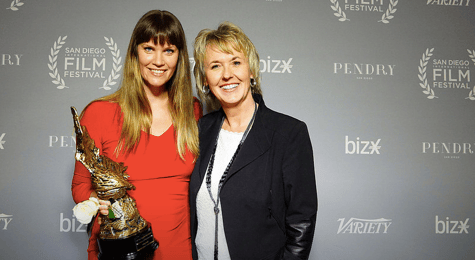 Back in June when we launched our induction into the San Diego market, we pledged to support the local community of businesses and give back to San Diego companies, including charities and non-profits. So far, 150+ companies strong, we are doing just that. Through the work of our dedicated BizX San Diego team, the wonderful support of our network of members, and through our partnerships with community organizers such as the SDiFF, we are able to help shine a spotlight on the city in such an important way! At BizX, we understand that when business owners come together to support one another, magic can happen!
Would you like to become an integral part of our San Diego commuity of businesses? Join BizX today.