As most of our in person holiday shopping traditions have been put on hold this year, BizX wants to make this holiday season as accommodating and successful for you and your businesses. You have extraordinary products and employees to reward. Now more than ever, we want to make this holiday season as seamless as we can, so here are 10 ways to use BizX for the holidays.
Need A Hand With The Holidays?—Email help@bizx.com or contact your account manager for help with any of your holiday planning, presents or events.
---
1. Deck the Halls with BizX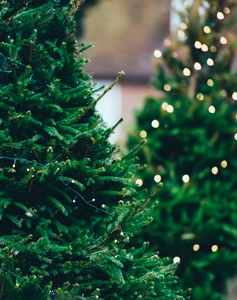 Deck the halls with GudCraft this year. They have an excellent selection of Christmas trees and lights. Use your card right on the Gudcraft website and make sure you select "other ways to pay," then "BizX" at check out!
Shop the Marketplace and our Holiday Gift Hub. With hundreds of gifts in a variety of categories, including corporate gifts and pets!
In Washington, Zenith Holland Gardens has Christmas trees galore, of all sizes! Check out their nursery and grab your Christmas tree on BizX.
In California, get luxurious wreaths, garlands and Christmas trees to add a festive flair to your home or office. Don't worry California members, ABC Tree Farms has you covered. Visit one of their Northern and Southern California locations.
2. Gift Certificates and Cards!

Choose from many limited edition gift cards for those super picky loved ones. High-end restaurants, wineries, salons and more are available from now until the end of the December shopping season. Choose between the Washington, Bay Area and San Diego while supplies last!
3. Perks by BizX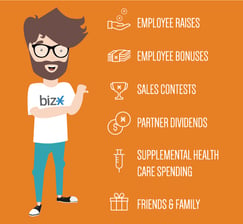 Show your staff some love by enrolling them in our BizX Perks program! This personal BizX debit account allows for easy bonuses and rewards for your top-performing employees. A Perks account has access to all the same goods and services as owner accounts, including the BizX Marketplace and everywhere that accepts the BizX card.
4. Virtual Holiday Parties
As we temporarily pause our in person holiday parties, we have many business members that provide products and assistance to celebrate all your 2020 successes and glad tidings virtually. Even in this socially distant world, these holiday virtual gatherings are valuable to come together with your colleagues, family, and friends.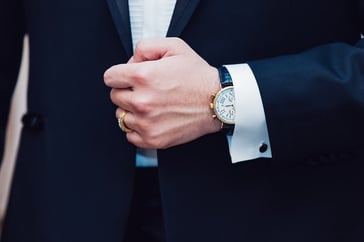 5. BizX Bling!
Shop luxurious jewelry for you or a loved one this holiday season, without facing the shopping madness. This is the time of year to show & share the love! Buy fine jewelry, hand-crafted and designed by the best in the BizX community! Explore high end selection from brands such as Dynamic Designs Jewelry and Blacy's Fine Jewelers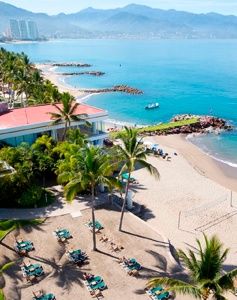 6. #NonQuarantineLife
Imagine being able to travel and explore the world? Once we get moving again, BizX members have access to some of the most elegant vacation stays. Discover all of the amazing travel options available on the BizX Marketplace. Fill out a travel request form and as places begin to reopen let's get your next vacation planned!
7. Use BizX to Budget for Business
Let's talk about business expenses. Before you start budgeting for 2020, ask yourself if you are fully leveraging your BizX membership. Are you planning on increasing your marketing efforts, revamping your website, renovating your restaurant(s), or looking to expand? What are your main business expenses and can you save that cash using BizX instead? Whether you've got the balance or want to take out a line of credit, make sure you're factoring BizX into your budget in 2020.
8. Seasons Greetings!
If you are looking for holiday cards, invites or corporate calendars—we have the best Washington and California printers in the business. Cut cash costs and use a BizX member to provide their expert services this holiday season.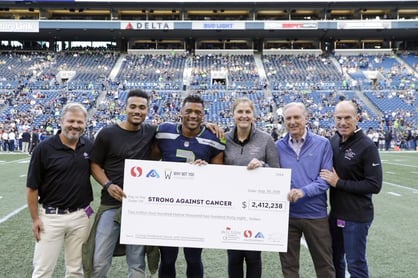 9. Donate & Spread the Love
The holiday season is the time to feel grateful for our successes and give to those whom are less fortunate. To this end, you can find many ways to give in the BizX network. The King County Chapter of Habitat for Humanity, The Rivkin Center for Ovarian Cancer Research and Why Not You Foundation, to name a few. A donation of BizX dollars enables a non-profit to off-set operational expenses. BizX charities are then able to utilize BizX dollars in a variety of ways, creating real change and exponentially helping their bottom line. We encourage everyone to consider donating, if you can!
How To Account For BizX Donations
For accounting purposes, BizX donations are treated just like cash—tax deductible in the year they are given. THIS is a win-win!
10. PPE Essentials
One universal phrase this year has been "I/We never thought...". Well we at BizX never thought we'd be so prominently promoting PPE products instead of large Holiday party planning and hosting, yet here we are! We have a variety of business members keeping us safe with a variety of masks, thermometers, and hand sanitizers.
---
However you use your BizX this season or any other, remember this—we are here for you! If you don't see what you're looking for or need a hand, let us know by emailing help@bizx.com!