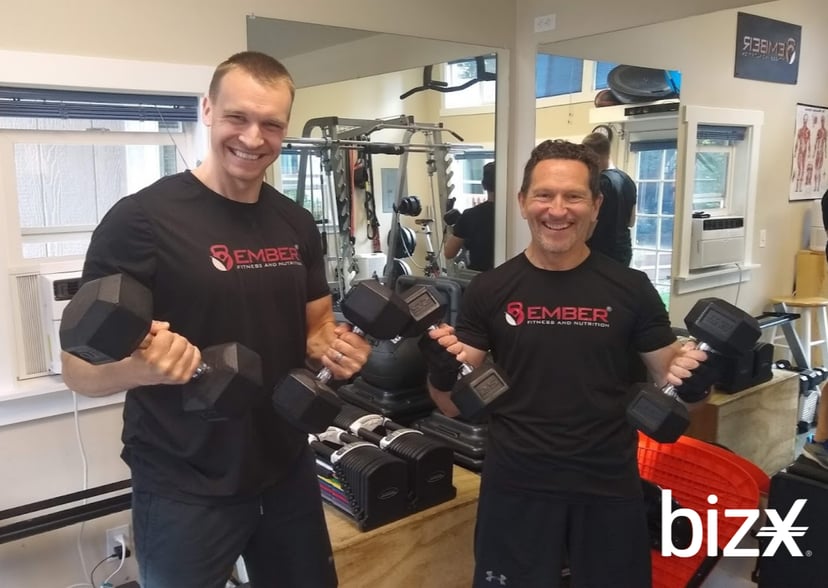 BizX Members, Jon Farrell (L) and Eddie Redman (R) get on their flex all on BizX.
Word of mouth is one of the most effective forms of advertising. In fact, 92% of consumers say they would believe a recommendation from a friend over any other type of advertising. That's how Jon Farrell, owner of Ember Fitness, found his way onto a barter network.

Farrell opened his private fitness studio, Ember Fitness, in February 2014 with the dream of helping clients reach their fitness goals. As a personal trainer, Farrell spends many hours each week learning their routines, studying their bodies, and creating a customized nutrition and exercise plans for them. All that collective work leads to a lasting relationship, both personally and professionally, between the client and trainer.

One specific client, Eddie Redman, had been with Farrell from the start. Redman kept mentioning that his company, Grand Event Rentals, was a member of BizX, a business-to-business bartering network. He said that through BizX, his company had found new clients and projects, and it was a fantastic way to pay for services and save precious cashflow. Redman promised Farrell he could continue serving his same clients, find new clients and build up a BizX credit that he could use for goods and services of his own. Farrell listened to these various perks with interest and knew that if Redman was raving about the barter network, it was something he wanted to try for himself.

Seven years since that initial post-workout conversation, Farrell has continually seen the benefits of BizX. True to Redman's word, Farrell has found an untapped revenue source of clients that would have been otherwise difficult to find. For a private fitness studio, the quality of a client is more important than the quantity, as one client can amount to five hours of work per week. Given this, just two extra clients can mean the difference between a part-time and full-time work week for Farrell.

Farrell says that "BizX has always been reliable. Though cash is always great, new, lasting clients are better; it seemed like the natural option for my business." He added, "While I wasn't sure at first how I wanted to use my BizX dollars, more business is always a good thing."

During the pandemic, when gyms were closed, Farrell's line of credit was the exact safety net he needed. Knowing he had BizX dollars for emergencies or big purchases, he was able to maintain his lifestyle, and not feel bad about grabbing takeout for an at-home date night with his wife.

Rest assured, with clients back in the gym, Farrell has found ways to purposefully use his BizX. He sets aside the extra cash for the things he wouldn't normally work into his budget: a new bedroom set, fixing a leak in the roof, finally renovating his kitchen. He uses the money strategically on things that will last, and when he looks back at the finished project he thinks,
"Hey, we did that with BizX!"