There's hardly a person from the Seattle culinary scene that doesn't know the name Seastar. That's because the high-end staple in downtown Bellevue has been one of the most acclaimed restaurants in the Seattle area for 15 years, and remains the seafood crown jewel of Chef John Howie's collection of popular eateries all over the area.
---
And in July, they shut down.
On July 1, Chef Howie closed the doors for a 4-week complete remodel that would update the classic restaurants famously-northwest decor, converting warm earth tones to more modern, high contrast lights and darks, complete with a white marble bar and countertops.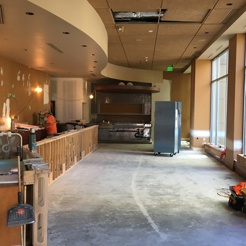 Chef Howie's renovation cost just north of $1M, but he didn't have to pay that entire price tag in US dollars. Instead, he got a BizX line of credit and included BizX in the budget for the remodel. By doing this, he was able to keep over $100,000 in his business and off set that cost by spending BizX dollars instead.
Chef Howie is a BizX member - a business in his community of fellow business owners who all understand that if they aren't 100% booked, they are leaving value on the table. With this remodel, since joining BizX in 2002, Chef Howie has been able to put nearly $500,000 cash back in his pocket by spending BizX dollars instead.
Seastar is uber-popular, and has been for decades, so to say that it has any "excess capacity" would be laughable. But do they have the open table every now and then? Of course. As a member of the BizX community, Chef Howie fills these empty seats with fellow BizX members, who come to his restaurant when they otherwise might not have because they can spend their BizX dollars.
By filling these otherwise open tables with loyal BizX customers, Chef John Howie earns BizX dollars. And when it came time to upgrade the aesthetic of his Downtown Bellevue hotspot, he put over $100,000 of those BizX dollars to use instead of using cash.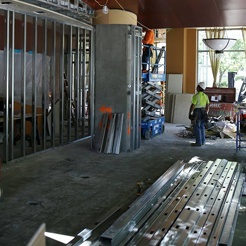 "All things equal I will always prefer to use a BizX member as a supplier, it makes a big difference on my top line and cash flow" said Chef Howie.
Here is how Seastar leveraged BizX towards a newsworthy facelift, and the BizX members that were responsible for bringing the project to life.
If you could pay some of your bills with food rather than cash from your register, would you? Of course you would.
---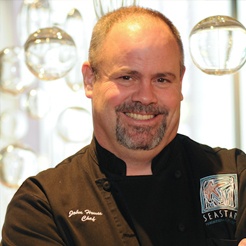 Seastar and Chef John Howie have been honored in both local and national publications, including Food & Wine, Martha Stewart Living, CNN, Food Network, CBS Early Morning Show and ABC's Good Morning America to name a few. Seastar was recognized as the "Top Cuisine - Seafood" and "Top Cuisine - Raw Bar" in the 2008 and 2010 Zagat Survey. Chef Howie has also been honored with an invitation to cook at the prestigious James Beard House on five separate occasions.
Chef John Howie has been a BizX member since 2002 and has spent over half a million dollars in BizX getting the things he needs for his business. From day-to-day needs to momentous remodel's, Chef Howie has been able to put cash back in his pocket by using BizX on things like printing, advertising, IT services, event rentals, hiring photographers and a myriad of other business services.