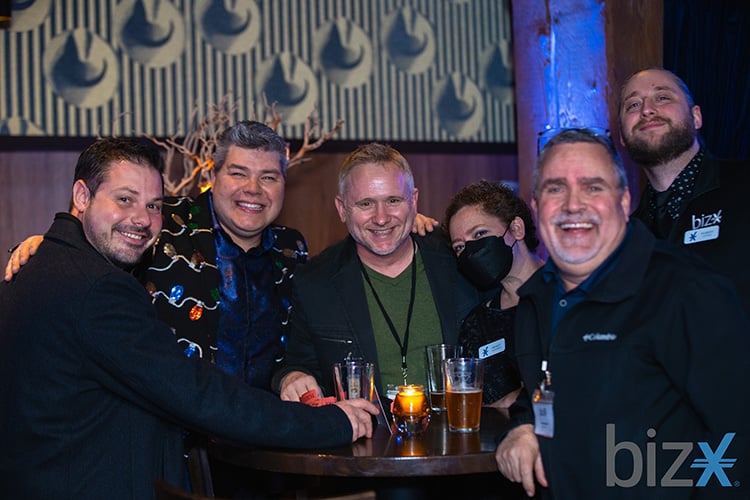 Over the last couple of years, one critical and constant way BizX and our member community has navigated the pandemic waves has been listening. Listening to our member base and the small business community at large has given us the understanding to be successful. Two recent instances have been: What do you need to make your holiday shopping season as carefree and seamless as possible? and What type of holiday event would you want?
To adhere to the first question, we relied on the best resource we all have: the member community! Restaurant members released exclusive gift cards, winery members marked down their bottles and cases including free shipping, event organizers and caterers opened more accessible dates, and of course our specialty gift members went above and beyond to make sure their gift baskets and boxes made it to fellow members in time for holiday gift giving. Complemented by our member services team, we had over 400 holiday gift items available at the height of holiday shopping season!
We kicked things off with the post-Thanksgiving rush of Small Business Weekend offering said gift cards, unforgettable travel getaways, pool tables and a 100+ perks account activations - the latter highlighted by member, KEXP rewarding perks bonuses to all their employees!
Holiday season momentum continued as our Giving December Pledge returned - which generated an additional 20K to our charitable members - and we hosted two incredible holiday gatherings: a digital experience and an in person party in Seattle.
Hosted by virtual event aficionado, John Chen of BizX Member, Geoteaming, the Digital Holiday Event exceeded all our expectations when 100 members gathered to get first crack at shopping exclusive deals from BizX vendors. Showing the extraordinary diversity of our community, participating members ranged from skincare to artwork to event production. The highlight of the night occurred after nonprofit members, Make a Wish Foundation and Food Lifeline roused the audience with their respective mission to give during the holiday season. Having been so inspired, Jeannette Betton of Dynamic Designs Jewelry announced on the spot that 5% of their sales for the next three days would go to said charities. We can't think of a more shining example of what the BizX community is all about!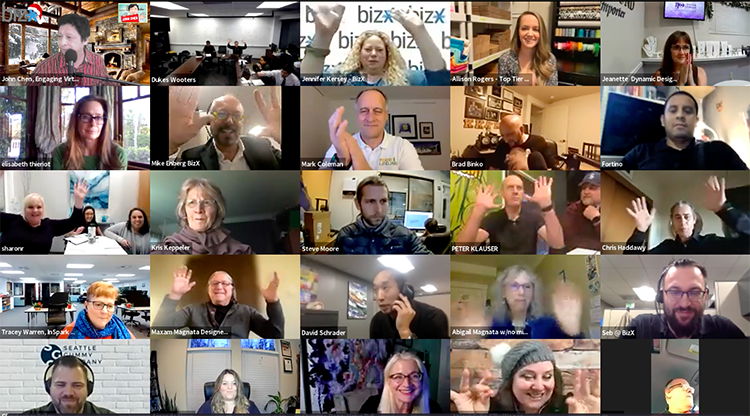 Thank you to all our participating members: Simply Magic, Replete Skincare, Top Tier Gifts, Andonian Rugs, Eternal Wines, Dynamic Designs Jewelry, Gilly Wagon, Salon D'Art, Seattle Gummy Company, Make a Wish Foundation and Food Lifeline.
To celebrate in person, we turned to new member Tony T's Lounge who offered a wonderful space to reconnect and ring in the holiday season. As the crowd of 250+ gathered, BizX CEO, Bob Bagga announced a challenge: through the purchase of raffle tickets, could we donate upwards of 100,000 meals to Food Lifeline in the next two hours? With prizes ranging from Seattle Kraken hockey tickets to vacations to Mexico, the partygoers were up for not only hitting the goal, but exceeding it by 1,000 meals! An incredible effort that will go a long way in fighting hunger. Besides the hard working staff of Tony T's, BizX could not have pulled this off without the amazing contributions of the team at Event Experience, Fred Granados who emceed, DJ Danny Goldfarb of WA Sound, N33D Creative, J. Bookwalter Winery, Grand Event Rentals, and PNTA.
As we press forward into 2022, a holiday season like we just had motivates us even more to continue to enrich the lives and businesses of our communities. The way forward in this new year is all about being stronger together. We as a group of thousands of businesses together are stronger than any one of us on our own. We envision the power of this network to be a shining example of stability and growth this year and are grateful for the opportunity to work day in and day out for businesses of all sizes.
Thank you for being part of an incredible Holiday season.
View photos from the Holiday Gathering at Tony T's here.
Enjoy highlights from the Holiday Gathering: