On September 25th, BizX and Amazing Member, the Oakland A's teamed up and brought together the Oakland business owner community for a night of food, fun, networking, and baseball!
BizX member and local legend Carrie Dove Catering was on site making sure we were all well fed before the game with gourmet burgers & hotdogs, refreshing salads and irresistible desserts. We also had Bison Brewing's organic beers there to help wash everything down. Planning an event? Can't do much better than these two. Take it from us!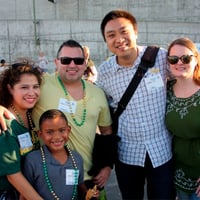 Guests watched as the A's took on fellow BizX member the Seattle Mariners in what ended up being a long night on the diamond, but not before BizX members, guests, and partners gathered for an exclusive networking tailgate outside the Coliseum. Proceeds from the evening went to the Boys and Girls Clubs of Oakland, who had some enthusiastic kids in attendance helping to make the event run smoothly.
And it wouldn't have been possible without our partners that made the night so special, Oakland Magazine, Alameda Magazine, and Donahue Fitzgerald Attorneys.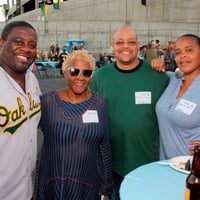 True to our manifesto, BizX is more than a company, BizX is a collaboration. This event was just one example of what the community can do when local business owners come together with this community-currency.
Thanks to all that attended, we were able to make a donation of 6,500 BizX to the Boys & Girls Clubs and help to further their efforts to give our young people a brighter future.
---
View the rest of the images from the night on our Facebook page!