Bob Delf founded Northwest Cellars in 2004, aiming to make high-quality wine with customers having the option of custom or private labels. Along carving out this niche in the area, supporting the community was just as important for Delf. That has led to Northwest Cellars being recognized as one of the top philanthropic business in the state seven years in a row.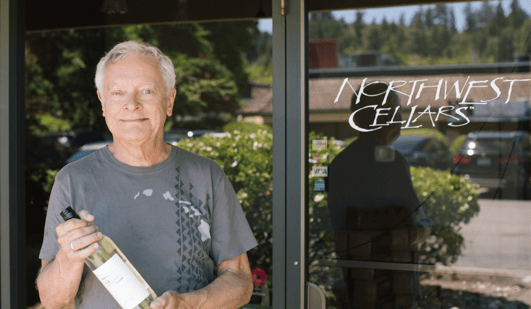 Running a successful business means you have to be savvy and open to creative ideas, so when he was introduced to BizX in 2012 as a potential way to reach new customers, improve cashflow, and make valuable connections, Delf saw great opportunity.
After joining the community, it took Northwest Cellars a little while to ramp up their BizX sales, but after about a year, Delf realized that BizX was more than just a novelty.
"It's actually a serious way to do businesses." Delf said. "I recommend it to people all the time."
Since joining, Northwest Cellars has provided private label wine to many businesses in the BizX community. Delf has established ongoing relationships with Grand Event Rentals, Butler Transportation, and Bonsai Media Group.
"The relationships I've created in the community lead to cash referrals. People will give out a bottle of our wine and those recipients will come in and pay cash for our goods and services. This just happened a few days ago!"
Northwest Cellars's work with other members has been fruitful and varied. To offset his regular business expenses, Delf uses Adrianne's Housecleaning for biweekly cleaning of the winery. Greenhaven Interactive is his go-to for search engine optimization and other digital services. He's utilized a range of other marketing services for signage and printing, and even dabbled with a billboard advertising campaign.
When it came time to remodel his tasting room, Delf went straight to BizX and utilized construction services, purchased furniture, lighting, granite countertops, and even completed the painting work through BizX members.
One of the things Delf enjoys most about trading in the BizX community is the simplicity, having the flexibility to call up his account manager to help process transactions or run it himself. But ultimately, it's about the value.
"You're saving cash and getting incremental revenue. It's significant and key to my company because I wouldn't have gotten that business otherwise."