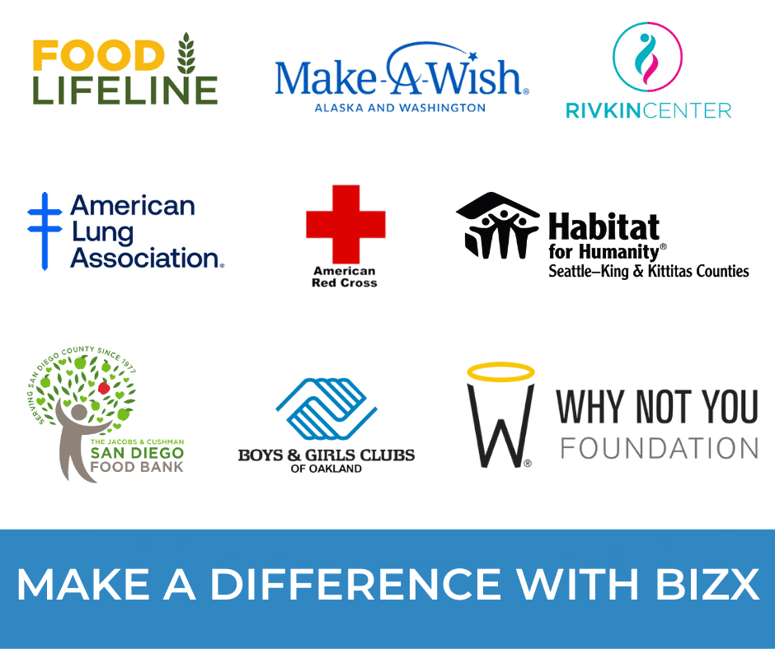 Throughout the years, the BizX Community has shown their generosity by donating BizX dollars to our charitable members (some of them are noted above). Your donations enable these organizations to positively change lives on a local, regional, and global scale.
Today marks a significant day for charitable members to reach their fiscal goals.
With that in mind, when you donate your BizX dollars to any of our charity members, BizX will match 20% of each donation on this Giving Tuesday! Moreover each donation is 100% tax deductible. A total win-win.
We would like to highlight a few members making a profound impact:
One of our newest members in the BizX Community is The Make-A-Wish Foundation. Each contribution can go towards supporting a critically ill youth's wish to travel, receive a transformation gift or have an experience to gain hope and confidence. The Alaska and Washington Chapter is counting on BizX Members to give an impactful contribution for a child today!
The pandemic has taken a toll on access to childcare and the role that Boys & Girls Clubs play throughout the country - especially at our member chapters in Oakland & Mukilteo - are critical for childrens' futures. Your donation will help these youth stay on track with their after school programs.
Currently providing nutritious meals for over 370,000 citizens of greater San Diego, the Jacobs & Cushman SD Food Bank is a game changing and vital resource for people facing food insecurity. With the increase in food prices, your gift would make all the difference!
These are just a few of the world-changing organizations within the BizX community. This Giving Tuesday (and throughout the year) keep in mind that you are just a few clicks away from making an impact in someone's life!
Explore more now!