Marketing is just as crucial during a recession as in less turbulent economic times. But, should you advertise as you would in a strong market? Like consumers, businesses must also adapt during a downturn. Consumers change their spending habits as they focus primarily on essential purchases. As a result, companies must adopt new or alter existing marketing strategies and campaigns to meet the needs of their customers.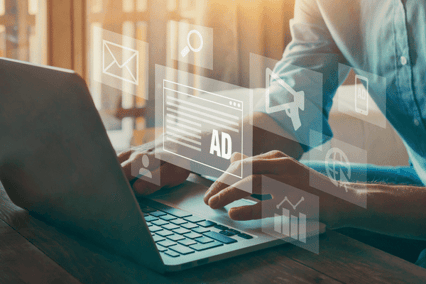 CUTTING COSTS WILL RESULT IN LONG-TERM LOSS
While cutting marketing costs during a recession may sound like a logical business move, it can do more harm than good. Cutting marketing costs will decrease brand awareness, search result ranking, and brand loyalty. This leaves plenty of room for competitors to fill the void and take the lead in the market.
Maintaining your marketing budget and having an effective strategy will ensure your online presence remains strong, building confidence and loyalty with new and repeat customers. Companies with enough foresight to invest in post-recession recovery will see exponential returns as the economy grows again.
Opens the door for competitors
Decreases brand awareness
DECREASES IN COMPETITION GIVE YOU A LEG UP
Budget cuts in departments like research and development or marketing mean that fewer new products are being released, and the output of existing products may slow as customers decrease spending. On the bright side, releasing fewer products means plenty of room to increase market share.
Maintaining budgets for R&D and marketing will allow you to focus on creating and improving products and building strong marketing campaigns to show consumers how your product can solve a problem they're facing.
Maintain or increase budgets for R&D and marketing teams
Fewer new products released leaves room to gain market share
Use targeted campaigns to show consumers how your product can solve a problem they're facing
STAY RELEVANT TO CONSUMERS
Branding during a recession is necessary to stay relevant to customers. Businesses using content that caters to consumer spending during an economic boom will not yield positive results when the economy declines. Companies should closely evaluate how they can remain relevant to their customers.
How can you track the efficacy of your efforts? Key Performance Indicators, better known as KPIs, can help you understand what campaigns are working. This allows your business to build more effective marketing campaigns to target consumers.
Build effective marketing campaigns
Use KPIs to track performance
Evaluate how to remain relevant to customers
---
SUCCESS WITH BIZX
With BizX, you can reach new customers without spending cash! We have over 20 years of experience in media buys and have saved members millions of dollars in cash. Here are some stories of success:
MB Jesse Painting - Over $100,000 worth of advertising purchased without spending cash to generate new business
Beacon Plumbing - Over $1,000,000 in media and advertising paid for with BizX dollars instead of cash. You've heard the phrase, "Stop freakin', call Beacon!"
Greenbaum Home Furnishings - Over $100,000 in magazine and other advertisements to increase their cash customers - all without spending their own cash!
---
The way for companies to maintain their marketshare is simple: ADVERTISE. During an economic downturn, a strong marketing effort enables a firm to solidify its customer base, take business away from less aggressive competitors, and position itself for further growth during the recovery.
Simply put, advertising during an economic downturn should be regarded not as a drain on profits, but as a contributor to profits.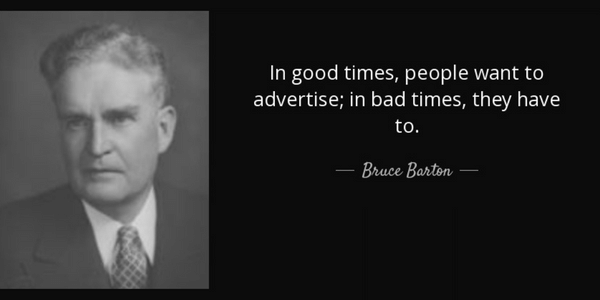 One major advertiser summed it up best, "When times are good, you should advertise. When times are bad, you must advertise."