We are excited to announce that we have moved our BizX Bay Area team to a new home in Berkeley! We've teamed up with fellow BizX member, Sandbox Suites, to move our office into their premiere co-working space for businesses and entrepreneurs alike.

Our Bay Area team and BizX community of businesses have been continuously growing year after year, and while our Oakland office has provided us with many great memories, we decided a new location would help to support the ongoing expansion of the BizX community. Enter Sandbox Suites, with three locations available to BizX members. Their Berkeley space proved to be a great fit for our new office, and we will also have the ability to work out of Sandbox Suites' San Francisco and Palo Alto locations, affording us the opportunity to better service our members throughout the Bay Area!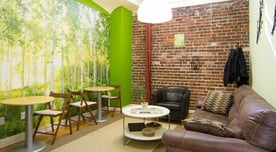 Every Sandbox Suites location provides access to full-service facilities, private offices, shared office space and conference rooms no matter where they happen to be, with the added benefit of a supportive community of other independent professionals. They also offer flexible plans with several levels of memberships to choose from that include month-to-month, virtual, part-time, full-time, private desk and private offices as well as daily drop-ins and on-demand meeting rooms.
Plus, everyone gets to enjoy the free coffee and Wi-Fi on-site, and there are printers, copiers and conference-call facilities on site!
Effective March 19, 2018, our New BizX Bay Area Office Location is:
1900 Addison Street #200, Berkeley, CA 94704
All of our other contact information, including phone numbers and email addresses, will remain the same.
Would you like to learn more about Sandbox Suites, or about how to become an integral part of our Bay Area community of businesses? Join BizX today or contact us for a consultation!